Our partners talk about how they change the world, and how we help
We are proud to be able to support positive change in the world through the work of our partner organizations. We sat down with a few of those groups for a conversation about the impact of our collaborations.
International Rescue Committee: Addressing Gender-Based Violence
A Q&A with Sanni Bundgaard, Technical Advisor for the International Rescue Committee (IRC)'s Gender-Based Violence Program.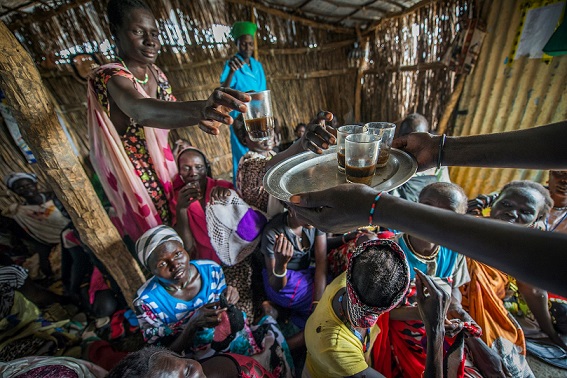 What's the mission of the IRC and the gender-based violence program?
The IRC is an international humanitarian organization that helps people whose lives and livelihoods are shattered by conflict and disaster. We aim to help them survive, recover, and gain control of their futures by providing health care, infrastructure, learning and economic support. These efforts include programs to resettle thousands of refugees in 22 U.S. cities, as well as special programs for women and children. We currently work in 40 countries around the world, but very few of those places are able to provide much-needed specialized training to health caregivers — such as nurses, midwives and doctors — in treating gender-based violence. The gender-based violence program aims to fill that gap, by developing training materials and tools, including a multimedia training toolkit on "Clinical Care for Sexual Assault Survivors (CCSAS)". Our guide and DVD can be found on the website of the Inter-Agency Working Group on Reproductive Health in Crisis (IAWG), where the IRC is a member of the steering committee.
What role does language play in this work?
Language is extremely important. We work with the most vulnerable populations, who often speak only their native languages. It is critical that our tools be translated in order to be useful. The ability to communicate and properly understand the living conditions, protection issues, and health risks these vulnerable women have experienced is essential to our work. If the beneficiaries do not feel that they are being heard or that our services are culturally appropriate, we will not be successful.
How did TWB help you make a difference with your beneficiaries?
It is nearly impossible to find staff who have both the right technical skills and fluency in the languages we need, so we need translators. But professional translation services are generally cost-prohibitive. We have been extremely lucky to have TWB provide the critical translation services we need. TWB volunteers translated more than 58,000 words in 2014 alone and have translated draft versions of the CCSAS toolkit, as well as research documents that are used in the field. Without their work, the health providers who are handling these delicate sexual violence cases could not do their jobs successfully.
How was translation done before TWB support?
Before TWB provided translation services, local medical staff did most of the translation work. However, it was often a slow process and it could take months to publish a translation of our materials. What's more, using doctors and nurses for this kind of work, especially in areas with overwhelming needs for basic health care, is not the best use of their time and expertise.
---
Fairstart Global: A Better Future for Orphaned Children — and Their Caregivers
Q&A with Niels Peter Ryegaard, Co-founder of Fairstart Global and Child Psychologist
What is the mission and scope of Fair Start Global?
Fairstart Global's mission is to offer research-based online childcare training to caregivers of children without parents, in foster care and residential care systems worldwide. Most governments in developing countries pay little attention to abandoned children. There are no social services, and caregivers are overworked and underpaid, with no access to professional training. As a result, only 56% of these children complete elementary school. Most end up in prostitution, poverty and crime. To address this problem, our organization offers programs to local professionals, major NGOs, and governments to support the development of professional, quality care on local terms.
Our programs are very simple, primarily consisting of hands-on video demonstrations of daily situations that any caregiver group can understand without prior knowledge. In that way, we can reach even the most remote childcare units with very few resources; our programs require only a projector or a laptop, an internet connection, and 15 training meetings for staff. Yet, our programs are also highly sophisticated, as they are based on the cumulative work of an international network of volunteer researchers.
What positive impact have you had on these children?
The results have been stunning – not only for the children, but also the caregivers. We see the children start to grow because their caregivers begin to take professional pride in what they do; and caregivers start to see themselves as parental figures and build emotional bonds with the children.
How do you use translation in your work?
Most of the caregivers in the countries we serve are women with good hearts, but no formal education and no familiarity with English. In addition, many governments in developing countries are fed up with people who come to "help" them, but do not respect their culture – and that includes the local language. Providing local-language versions of our programs helps transcend cultural barriers and sends a message of respect to this population. Program instructors who don't speak Bahasa or Japanese, for example, can use the English version on their own laptop while a group of caregivers follow along in their own language on the screen. Our local partners have also had success with this approach.
Since we started offering our curriculum, we have received requests for 18 different language versions of our programs. And every day new requests come in. The most recent include an orphanage in China with 400 disabled children. And we plan to create local language versions of an online education forum, similar to the EdX platform designed by Harvard and MIT, to create more local and self-sustaining professional care systems.
What impact has TWB has had on your program?
Thanks to TWB, we are the world's smallest NGO with the greatest influence on children without parental care. One of the best examples of cooperation between Fairstart and TWB is our program in Japan. A child psychiatry professor from Nagano approached me after a failed attempt to create a foster care system in that country – the idea was just too novel. But he worked with a TWB translator for about a year and a half to create Japanese versions of our programs that he will use to train caregivers. These are available on the Nagano University website.
This video provides more information about the impact Translators without Borders has had on our work.