Why Language Mattered in the Ebola Response.
"To make a real difference in some of Africa's poorest countries, we should train more translators."
"We're getting better at breaking down language barriers. Thanks to the likes of Google Translate, Duolingo, Rosetta Stone and Skype, we can understand — and even communicate — across languages. " Read more
---
"Quick, someone call a translator!"
Lali Foster, TWB's former Communications Manager for the European Refugee project, based in Lesbos, Greece, talks about communication challenges and solutions on the front line of the European refugee crisis response. Read more.
---
Wikipedia's medical errors and one doctor's fight to correct them.
Dr. James Heilman says medical students and physicians are using potentially inaccurate Wikipedia entries. Read more

---
In the Ebola crisis, with the populations of the three most affected countries, Sierra Leone, Guinea and Liberia, speaking over 90 languages, the crisis rapidly became one of information – and especially communications in the right language – as much as anything else.
"In the first nine months, if people had been given proper messages, all this could have been prevented." Claudia Evers, MSF Ebola emergency coordinator, Guinea, late in the Ebola epidemic speaks to the crisis of information that permeated the Ebola response.
Jeanne Martin Goumou, a translator from Guinea, shares her personal experience of the importance of ensuring that people had access to information in the right language during the response to the Ebola crisis. Read more.
---
In Kenya, TWB conducted a study to measure the impact of translated Ebola materials. We asked 200 persons 4 simple questions about Ebola. 8% of the questions were answered correctly. We then showed an English Ebola warning poster to 100 of them. 24% of the questions were answered correctly. Then we showed the same poster translated into local languages to the 100 others. The group that received the information in the local language answered 92% of the questions correctly.
---
Why Understanding Mattered in Nepal.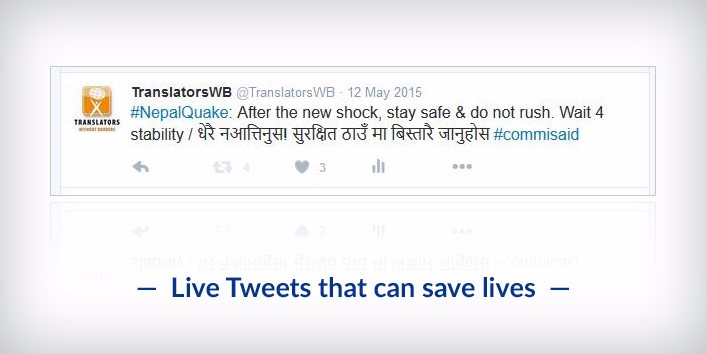 Within minutes of when the earthqake in Nepal hit in April 2015, people started responding. Calls for help appeared on social media and responders needed to reach those who were in danger. TWB activated a Rapid Response Team who monitored local language print and social media and started translating over 500 terms into Nepali, Newari and Hindi for search and rescue people. Translated Twitter messages which contained crucial information about first aid and protection during and after an earthquake were distributed widely. Read more about the response here.