Since September 2015, TWB has deployed its Words of Relief response program to support local and international humanitarian agencies working to assist refugees and migrants arriving in Europe. Since the response began, Rapid Response Teams in Arabic, Farsi, Greek, Kurdish, and Urdu have provided over 800,000 words of immediate, high-quality translations in multi-media formats, to aid organizations responding along the refugee route. By working with partners, we estimate to have reached 100,000 people with content related to protection, asylum procedures, and basic services. This page provides a selection of resources to give you an idea of work that TWB is doing in Greece and the Balkans. To explore more, visit the TWB resource library.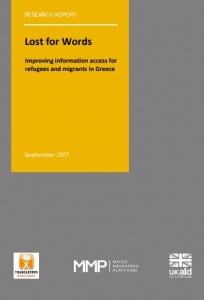 Lost for words
A research report focusing on improving information access for refugees and migrants in Greece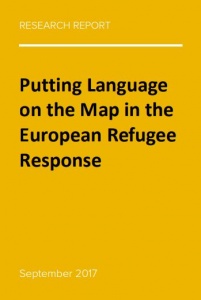 Putting Language on the Map in the European Refugee Response
This report examines why refugees and migrants are not receiving the language support they need to communicate with service providers. It sets out practical solutions, starting with collecting better data on the languages people understand.
TWB Interpreter Connect
September 2017 - TWB launches the first-ever portal to connect humanitarian interpreters with non-profit organizations.
This free platform connects interpreters and cultural mediators with non-profit organizations that need language support. This is a pilot project developed by Translators without Borders for responding to the European refugee crisis in Greece.
Visit TWB Interpreter Connect.
The voice of the vulnerable: A special kind of courage
June 2017 - by TWB Project Officer, Julie Jalloul.
Imagine it is your sole responsibility to ensure that a vulnerable person's voice is heard and understood. A refugee who has seen more than you can imagine. A refugee who may need to go to the hospital or an asylum interview, or a therapy session. You are not a doctor, a lawyer or a psychologist. You are the voice. You are the interpreter!
Read more.
Words of Relief in Greece
Since late 2015, Translators without Borders has been responding to the European refugee crisis with its Words of Relief program. This video shows the vital work that is being done, by working in partnership with humanitarian aid organizations, to help refugees arriving and who need assistance in a language they understand.
How language barriers affect children on the move
Azad is not a real boy, but his story is representative of thousands of refugee youth in Greece. Although refugee and migrant children are quick at acquiring new languages, important support such as protection and school tuition should be in their mother tongue.  Azad and the Sea of Words was created by TWB with funding from the Mixed Migration Platform supported by the Swiss Federal Department of Foreign Affairs. Watch Azad and the Sea of Words in other languages.
'Do any of you speak English?'- The language and information barriers faced by refugees and migrants.
With limited access to reliable information, migrants often rely on smugglers who speak their languages. The ability to understand and communicate affects the choices people make. At every stage of their journey, refugees and migrants need reliable information, in a language they understand, to make informed decisions.
To read more research reports and to download free resources for interpreters and cultural meditators please visit TWB's resource library.