In north-east Nigeria, humanitarian organizations are working to support some 1.7 million internally displaced people (IDPs) and the communities hosting them. But language is a challenge: in this linguistically diverse part of the world, people forced from their homes don't always speak the same language as the people around them. International aid organizations often lack the skills to communicate with everyone in their own mother tongue. In fact they mostly communicate in one of just two languages. In July 2017, a team from the TWB crisis response team traveled to Borno state in north-eastern Nigeria to carry out an assessment of the language barriers that are hampering efforts by humanitarian organizations to help communities affected by conflict, displacement and a food crisis. Let us tell you about what we learned.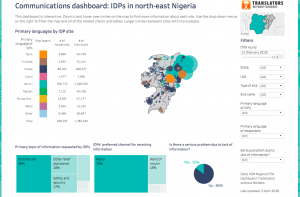 Communications Dashboard: Internally Displaced People in north-east Nigeria
This dashboard is an interactive tool to help humanitarian organizations better plan their communication strategies and language support. This resource was developed by Translators without Borders, in cooperation with IOM's Displacement Tracking Matrix (DTM) team in Maiduguri.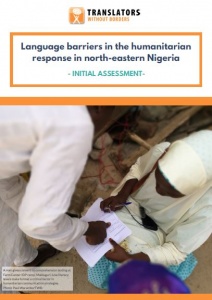 Language barriers in the humanitarian response in north-eastern Nigeria
This brief report summarizes key findings and proposes ways forward for operational agencies and their donors to improve communication with communities, and thereby aid effectiveness, through language support to humanitarian action.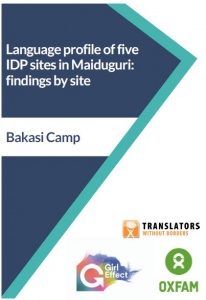 Language profile of five IDP sites in Maiduguri
This report summarizes key findings from a study of comprehension levels among 951 internally displaced people (IDPs) and host community members at five sites in the Maiduguri area of Borno, north-eastern Nigeria.
Download here. Individual site reports are available here.
Learning about Understanding
How do you ensure everyone understands what services and support they are entitled to, if you don't know what language they speak? In July 2017, TWB set out to answer that question, building on our experience of comprehension testing in Kenya, Bangladesh, and Greece. In collaboration with NGOs Oxfam and Girl Effect, we tested actual comprehension levels in English, Hausa, and Kanuri among IDPs and host community members in Borno State. Read more
To read more research reports and to download free resources for interpreters and cultural mediators please visit our resource library.