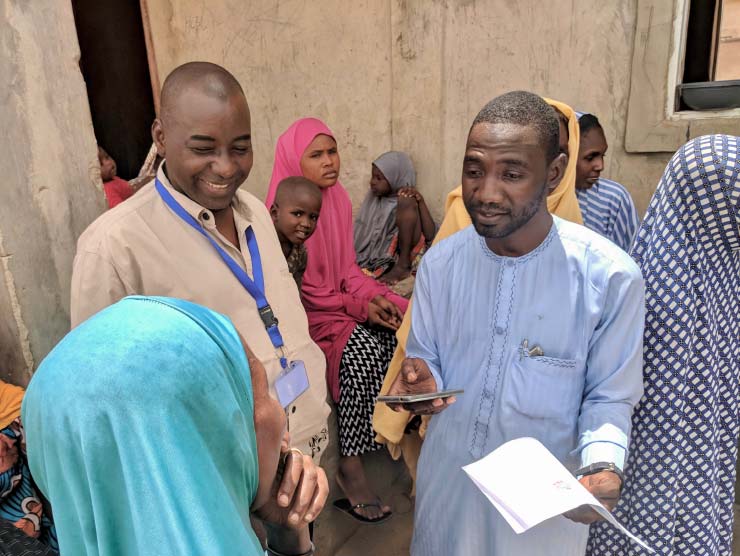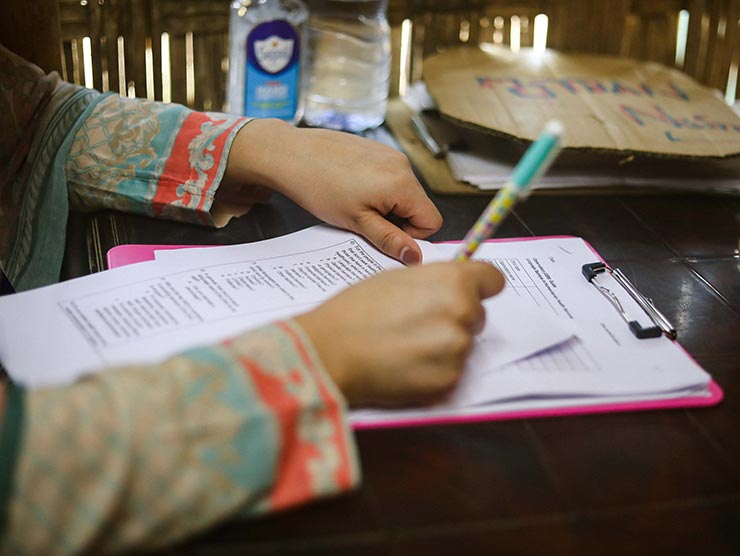 Our mission is to use language to break down barriers and increase access to critical knowledge and information, in a language and format that people understand.
Translators without Borders is a nonprofit organization working towards a world where knowledge knows no language barriers. We believe in working in partnership to make this happen. TWB works with organizations in diverse sectors, from humanitarian aid to social justice. We use translation and other language services to help increase our partners' impact.
If your nonprofit organization wants to strengthen your work through language services, we would love to hear from you. Perhaps you can become one of our partners! 
If your language needs are simple and won't require project management from us, we might recommend a self-managed partnership. This includes access to TWB's Translation Platform and our community of volunteers. Or if you need more sophisticated language support (perhaps for harder to source languages, or language advice) and project management, we offer more hands-on partnerships. Or you might be able to make good use of TWB's full range of language advice and products. Our team can, for example, ensure quality checks, develop custom terminology, support plain language editing, and provide crisis response support. We will work with you to develop a partnership agreement that will work for us both. 
If you are eligible and think a TWB partnership might be right for your organization, please fill out an application form.
learn what resources we currently have for services in different languages.
TWB's Partner Program at a Glance
What People Are Saying
It is absolutely critical to our work that we can engage with disabled fans and other stakeholders across Europe, in a language that they understand. As a small team, we can't speak every language, so we rely massively on Translators without Borders to help us to communicate. Communication is key to everything we do, and that is why Translators without Borders is such an invaluable asset to us.
Media and Communications Manager
Centre for Access to Football in Europe (CAFE)
MediLingua is a medical translations company, and so we understand the importance of medical information. We know how incorrect health information can seriously threaten one's health. We know that information in a language the reader does not understand is useless. On behalf of the localization world, Translators without Borders helps humanitarian organizations to do what they are good at (treating patients, rescuing earthquake victims and Syrian refugees) by providing what we are good at – translation. This is of crucial importance, and that's why MediLingua proudly sponsors Translators without Borders. On a personal level I happily represent the organization as one of its ambassadors!
CEO
MediLingua Medical Translations
The ability of Wikipedia to provide free, accurate, and accessible health care content to people in their native languages is possible in large part because of TWB.
I don't think any organization by itself, including us, can internally turn around all that information through all those platforms. That is why there is an important link between the work that we do – gathering and providing information – and Translators without Borders, who help us translate all that information.
During a crisis where information and effective communicating are so important, the work of Translators without Borders ensures that humanitarian organizations working within the response are able to get information in local languages to the people in need.
This is vital work, and translation makes the difference. Your professionalism … for this piece of work is impressive and the impact it will have on our Arabic speaking audience, which includes those Syrians directly affected by this crisis, will be profound.
It is both amazing and also very comforting and inspiring to see people donate their time and skills to defend the principles of action and the ideas of humanitarian assistance.
On behalf of Fairstart Global, we wish to thank you for your fantastic work, assisting the efforts to improve foster care and orphanage systems in Japan. Thanks to TWB, our caregiver and leader training programs are now available in Japanese at http://www.fairstartglobaljapan.org and we feel confident that our programs will support efforts to provide Japanese children with quality care educated foster parents. Thanks again TWB for your invaluable help to create quality care for the 100 million children who grow up without parental care!
As Typhoon Haiyan approached the coastline of the Philippines, Humanity Road reached out to Translators without Borders for assistance. Their response to our request was fast and within hours we had our first translation assistance. They helped monitor social media in language and translated text and video messages emerging in social media.  The support provided by Translators without Borders helped save lives and also provided message relay support to reunite families who were rescued.
It is extremely important to provide medically accurate and easy to understand Ebola information in a community's local language. Our posters, leaflets and video materials are being used across West Africa: in shops, hotels and banks, in clinics, hospitals and mining sites. They are also present in airports and at a number of checkpoints. The use of these materials would simply not be so widespread without the work of Translators without Borders to help get this medical advice to the people who need it most.