Translators without Borders will be represented at the following events over the coming months. If you are attending, we would love to meet you.
---
NAFSA 2019 Annual Conference & Expo, "Global Leadership, Learning, and Change"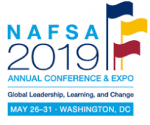 26-31 May 2019, Washington, D.C., USA.
'The NAFSA Annual Conference & Expo unites nearly 10,000 attendees each year from more than 3,500 institutions and organizations from over 100 countries. It is the most comprehensive international education event serving the diverse needs of the entire international education community. NAFSA 2019 is the must-attend international education event of the year!'
---
NetHope Workshop at AI For Good Global Summit at the UN
28-31 May 2019, Geneva, Switzerland.

'Learn about current applications of AI in the social sector and how to incorporate AI into your programs and projects, from understanding how to frame a problem for AI and get your data in order to how to resource your team and have the right processes in place.'