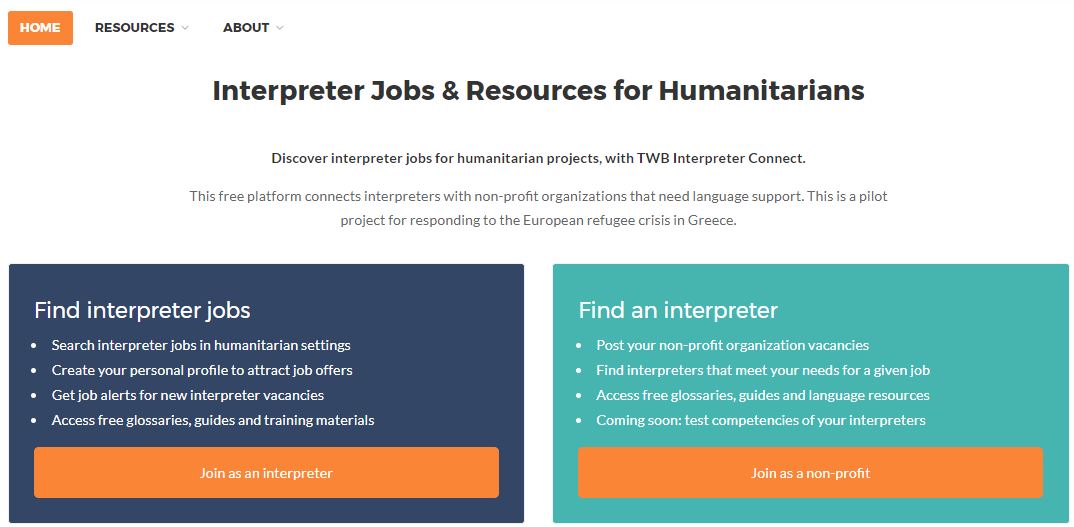 DANBURY, CT USA – 19 September 2017. Translators without Borders today announces the launch of TWB Interpreter Connect, a portal designed specifically to connect non-profit organizations with humanitarian interpreters working in crisis situations. Developed with extensive input from users, TWB Interpreter Connect will help organizations identify interpreters and cultural mediators.  It also provides resources and skill development for partner organizations and interpreters working in the Greek refugee response.  In the future, TWB hopes to include testing, as well.
Διαβάστε το δελτίο τύπου στα Ελληνικά εδώ
The need for quality humanitarian interpreting is acute in Greece, where the 40,000 refugees speak a myriad of languages. A study conducted by TWB in April 2017 pinpointed the lack of interpreting services as one of the one of the major barriers to the effective delivery of humanitarian assistance in the refugee crisis. Further assessment following the study indicated that non-profit organizations had a difficult time sourcing qualified interpreters. According to the study, there were never enough interpreters, who were seen as a critical link to share important information with refugees and migrants on issues like healthcare, food, shelter, medical services, immigration procedures, or accommodation information. Even those who had filled the required positions said that testing of the interpreters' skills was very difficult, and that their level of quality was not known.
TWB Interpreter Connect was developed to address those needs. The portal connects humanitarian interpreters with non-profit organizations needing interpreting services, making it easier to identify the right interpreter for a particular need. Additionally, TWB Interpreter Connect aims to upskill humanitarian interpreters by providing them and their employers with free training materials and resources such as glossaries, guides, and training videos.
TWB has tested the portal with interpreters and cultural mediators over the past month, and their input has been incorporated. Feedback has been very positive, such as from Rafael Pomadere, an interpreter who works from English into French, Spanish and Portuguese: 'An essential tool in a desperate time. Any interpreter looking to help refugees should join TWB Interpreter Connect.'  
In the coming months, TWB hopes to include more services to the portal, especially a method for testing interpreters.
Julie Jalloul, TWB Project Manager who herself has served as a humanitarian interpreter, designed the portal. "We wanted to offer something that would specifically help with the critical communications link provided by interpreters. Recognizing that the interpreter is often the only connection a refugee has with crucial services, we focused on helping non-profit partners find humanitarian interpreters and then giving those interpreters extra tools to do their jobs better."
TWB Interpreter Connect was developed as part of TWB's Words of Relief crisis program, which has been operational in Greece since September, 2015. TWB will be modifying and refining the portal over the next few months with the help of partners and interpreters who are using it. Ultimately, the goal is to make TWB Interpreter Connect available for other crisis situations next year.
---
About Translators without Borders
Translators without Borders (TWB) envisions a world where knowledge knows no language barriers. The US-based non-profit provides people access to vital knowledge in their language by connecting non-profit organizations with a professional community of translators, building local language translation capacity, and raising awareness of language barriers. Originally founded in 1993 in France (as Traducteurs sans Frontières), TWB translates millions of words of life-saving and life-changing information a year. In 2013, TWB created the first-ever crisis relief translation service, Words of Relief, which has responded to crises every year since. The organization started responding to the European refugee crisis in 2015, providing much-expanded language services, including rapid translations to partners working in the response; training humanitarians, translators and interpreters (professional and aspiring); setting up a language working group; establishing a humanitarian interpreters' roster; and, conducting research on language and information.