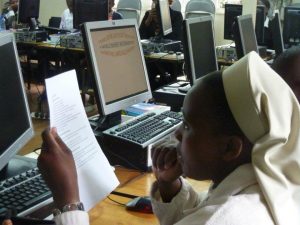 In addition to our core work of providing translation to non-profit organizations, Translators without Borders also provides training for translators in local languages around the world. These training programs aim to increase local translation capacity, ultimately ensuring that more people have access to vital information, in the language that they understand.
In the Translators without Borders Translator Training Center located in Nairobi, Kenya, new translators are trained in Kiswahili, as well as a number of the other 42 languages spoken in Kenya. Since the Center was first launched in 2012, we have provided basic translation training to over 250 people.
As part of our Words of Relief crisis response to the European refugee crisis in Greece and the Balkans, we have trained 40 humanitarian partner staff and volunteers in translation and interpreting in a humanitarian crisis. Read more about our response.
Translators without Borders training is supported by: