Portuguese – Ndau – Nyanja – Sena – Shona – English
During a crisis, humanitarian responders and crisis-affected people need to communicate effectively. In the linguistically diverse, low-literacy context of Mozambique, key concepts and terms can create confusion and misunderstanding if not properly translated.
TWB glossaries are designed to help bridge this communication gap by providing consistent, accurate, and easily understood words in the languages of crisis-affected people. They are built with input from local language speakers, interpreters, translators, and field workers. This resource gives both field workers and crisis-affected people more confidence in their communications.
The TWB Glossary for Mozambique includes terminology for various sectors associated with emergency response and early recovery. It contains protection, shelter, health, and food security terminology in Portuguese, Ndau, Nyanja, Sena, Shona, and English. This is an evolving resource that we will expand over time to include even more terms and languages.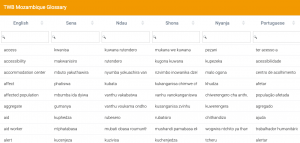 View and use the glossary here.